Fully renovated and spacious 80 square meter 3-4 room appartment in the Ahornstraat in The Hague on the first floor (US second floor) .
The living room and hall are joint together resulting in a living space of almost 40 square meter.
There are 2 bedrooms. The bathroom has a walk in shower.
Some furniture is present as shown in the pictures.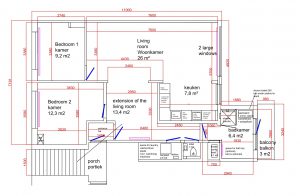 Arrangement with 3 rooms (2 bedrooms)
It is fully furnished with 3 beds, curtains, laundry washer/dryer.
The appartment is very well isolated.
There is a great view on the nice gardens of the neighbours. The living room has 2 large windows that can open fully resulting in an inside balcony.
The appartment is 3 minutes to the shopping streets Thomsonlaan + Fahrenheitstraat and 1 km to the Frederik Hendrik laan. Public transportation line 3, 11, are on a couple of minutes distance.  The distance to the beach is 2 kilometer. To the European Primary School is 270 meter.
The rent for the appartment depends on the rental period and can be including or excluding electricity/water/internet/city taxes.
For more information call 06-24804408,  info@ibuko.com