This head turning Fleetwood Wagon was build by Wisco. In the early seventies Jim Baker experienced with GM Clamshell wagons (1971-1976 Buick Estate Wagon, Chevy Kingswood, Olds Custom Cruiser, Pontiac Safari). Cadillac never did build wagons. The only supplied commercial chassis to the professional coach builders to make hearses, ambulances, flowercars which all had high front windshields and not the clamshell rear end with the door that disappeared in the floor and the rear window that disappeared in the roof.
The clamshell end was great because there was no swing open rear door for loading/unloading.
Jim Baker started to cut a Fleetwood and a GM clamshell wagon in 2 pieces and welded the tubular frame channels, floor and roof from both cars together. The wagon has leaf springs as opposed to coil springs for greater loading capacity.
Mostly he used Buick Estate wagons for the modification.
Several conversion companies such as Wisco were instructed by Jim Baker and build only few clamshell Cadillac wagons. The exact number is not known, maybe less than 100 in total. The rear end of the 1975 Wisco El Classico was modified to look like a Cadillac. The quarter panels were extended and instead of plastic rear fillers it has an all steel rear fender. The rear bumper is unique with on top of it a large panel to carry oversize load if it sticks outside the car. The total length is exacly 600 cm, that is 10 cm more than the regular Fleetwood. The door opens and closes manually. The rear window is powered by a motor and a switch on the dash or can be openedby turning a key at the back of the wagon. Elvis ordered a Sedan de Ville Hardtop for modification into a wagon. (white with pink roof).
The wagon has some small spots that are easy to repair and minimal rust.
For me the wagon had to be technically good but it had not to be a show car.
It has 93000 miles (150.000 km) on the odometer. When I bought it from the seller in Lake Okeechobee Florida it showed 72.800 miles so I drove about 33.000 km. The seller did not know this was an unique car. He bought it from the wife of the first owner only because he was interested in the engine! He pulled it from the car and installed in an Airboat that he build to tour visitors over the Everglades. The first thing I had to do was to find an engine. I found one in Oregon and had it shipped to Rotterdam.
Mechanically I had several parts renewed such as the timing chain + sprockets, radiator, radiator hoses, upper control arm bushings, center link + idler arm, exhaust, head lamps, starter, wiper motor (interval), tires 4 cm whitewalls, radio, tail window motor.
A lot of interior work was done such as new headliner, carpets, leather interior, dash panels, radio+speakers, Impco LPG-system with 82 liter tank, rear brake cilinders, door seals, click here for full list of parts and cost overview.
Most of the restoration which took about 800 hours was done within a couple of months from June 2009-Feb 2010. The replacement of the roof sections may appear a lot of work but were not so complicated. The front section came from a 1972 Fleetwood from Arizona Vintage ad the rear section from a 1972 Buick Estate wagon from Desert Valley Autopart who became famous after there junkyard appeared in Dessert Kings on Discovery. The welding of the roof sections was done in less than 2 week but most of the welding was in the floor of the rear section which was very bad and also to make a support for the LPG tank.
The rest of the floor was very good. I replaced the hood and reare door and also had to weld the area around the fender skirt. So in total 60 meter of welding was done.
Click here for the overview of costs that were spent in the wagon, exceeding € 18.000
Most parts I purchased for very low prices in the USA and were transported to The Netherlands for low cost due to own import.
Nowadays these parts will cost much more.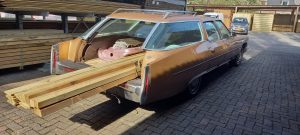 The buyer can do what he likes.
For instance keep it like it is and drive as much as he likes like I did.
It would be a great promotional car too. It has 3 seats so it can transport 8 people.
Restore it and make it mint which is quite simple because it only needs some body repair and no welding.
Chrome is nice but unfortunately there is a small dent in the rear bumper which is a one of a kind piece.
As far as I know there a no mint Cadillac clamshell wagons in the world so it would be worthwile to make this wagon mint because it will have a value much higher than a Castillian wagon which sell for more than $ 30.000 in good condition. The Castillian wagon owned by Dean Martin in mint condition was offered for close to $ 70.000. Once Elvis owned a white 1974 Sedan de Ville clamshell wagon with a pink roof. Click here to see it in the Volo Museum.
So it is also possible to put the wagon in a museum.
In total the wagon is an unique and head turning Cadillac.
Actual mileage is 93.000 (150.000 km)
It is for sale for € 12.500
Alsof or sale is a 1975 Fleetwood Talisman that needs completion of restoration.
30 Years ago a new hood, 2 front fenders, 4 door skins were installed and welding done to the rear.
Then it was repainted but the car was never finished.
Over the years when the car was garaged the paint got small bubbles and repaint is needed.
There is no visible rust in the paint.
The engine and  automatic transmission are ok.
The Talisman has a very nice blue interior with centre console between the front seats.
It needs nice bumpers, windshield, door handles, body moldings, mirrors, complete exhaust, complete brake system, shock absorbers, tires, weather strips and rubbers, rear fillers, 4 tires, head lights, grille, vinyl top
Easy restoration if a donor de Ville or Fleetwood is available from 1974/1976.
Fleetwood Talisman is for sale for € 4.000
Wagon + Talisman together are for sale for € 15.000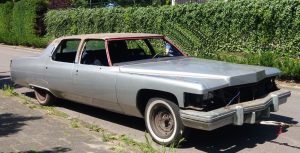 In 2008 werd op Ebay een Cadillac Fleetwood stationcar uit Okeechobee in Florida te koop aangeboden.
Jim Baker begon te experimenteren met het maken van Cadillac station cars uit de jaren 1971-1976. Hij gebruikte hiervoor achterkanten van andere GM wagons met clamshell zoals de Buick Estate wagon, Chevrolet Caprice/Impala.
Hier een impressie van het werk. Zowel de koets als de chassis werden doorgezaagd.
Hij bouwde Fleetwoods met middelstijl en Sedan de Ville Hardtops zonder middenstijl om.
Het is waarschijnlijk de enige in Europa en in de USA zullen er waarschijnlijk minder dan 10 over zijn gebleven.
Hij heeft ruim 150.000 km gereden waarvan bijna 40.000 km door mij.
De wagon is te koop voor € 12.500
Kenteken 56-YB-47
Te koop :
1975 Fleetwood Talisman, kleur zilver met blauw interior.
Deze werd 30 jaar geleden voorzien van een nieuwe motorkap, 2 voorschermen, 4 nieuwe deurplaten en aan de achterschermen werd gelast.
De wagen werd toen gestald maar niet afgemaakt.
De motor en automaat zijn goed.
Het interieur is zeer mooi en heeft een middenconsole tussen de voorstoelen.
De lak heeft in de loop der jaren kleine bobbeltjes (blisters) gekregen zonder roest.
De lak moet dus geschuurd of weg gestraald worden en daarna moet de wagen overgespoten worden. Hij is volledig strak.
Om hem af te maken zijn de volgende delen nodig:
Bumpers, complete uitlaat, schokbrekers, compleet remsysteem, voorruit, sierlijsten, 4 banden, deurgrepen, spiegels, achterfillers, deur/dak/raamrubbers, grille, vinyl dak.
Als er een donorwagen is met deze delen is het makkelijk om de Talisman af te maken, bijv. een Fleetwood/De Ville uit 1974/1976.
De prijs is € 4.000 .
In één koop kosten de wagon en Talisman  € 15.000